Where I Been?
So where have I been? I had actually been on vacation for the last 2 weeks. Now don't get all excited, I didn't go anywhere. I actually initially didn't want to take the time off as I had no plans, however, I was forced to take it as it was unused vacation from last year and I had to use it up before the end of April. I was home for the two weeks, not doing much but sleeping in and lazing around, and watching movies. So nothing really to report for vacation time.
However, my vacation ended with me being back in Vancouver again. This time I will be here for the month (minus a trip home for the May long weekend). Its already been an interesting couple of days. This week the main office out of which I normally work is a zoo. Deskspace is prime realty, and with all the managers walking around and having meeting wherever they can find a place to gather, its quite noisy. As a result, I relocated my workspace to a few blocks away to a lab with a view. I have the room to myself, its not freezing cold, and has a nice view.
I've been watching tugboats take what appears to be garbage from this cruise ship for 2 days.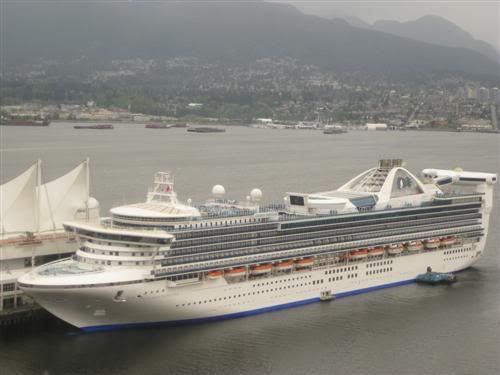 While working I had a visitor too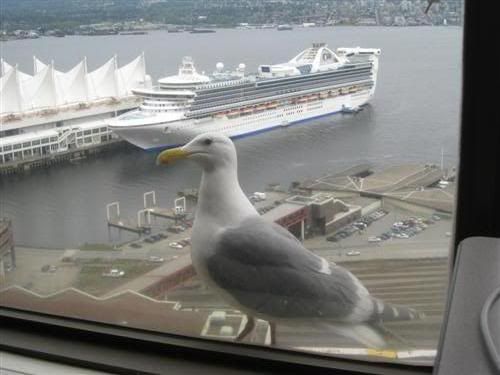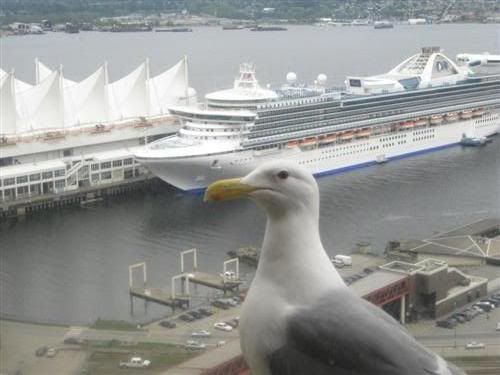 Then this morning my day started out with dramas. I had woken up, but lay in bed trying to muster the energy to go to work. I finally decided to get up out of bed and the power goes out. Now, I don't have the room with the window in the bathroom so its totally dark. We were then told to evacuate the hotel. So I brushed my teeth in the dark, got dressed and began the climb down 31 floors to the street. We were made to stand out on the street for about 10 minutes and then we were allowed to stand in the lobby. Apparently, the power had been out to neighbouring buildings as well due to a power surge, so the hotel was having issues so we were made to wait longer. Eventually the hotel manager made an announcement that the estimate on the power returning would not be until 11:30, and that they only have 1 elevator working and staff was supplying flashlights. I took my chances and showered in the dark and went to work. I was glad it wasn't a shaving day :p
So there you have it. An update on what I've been up to.